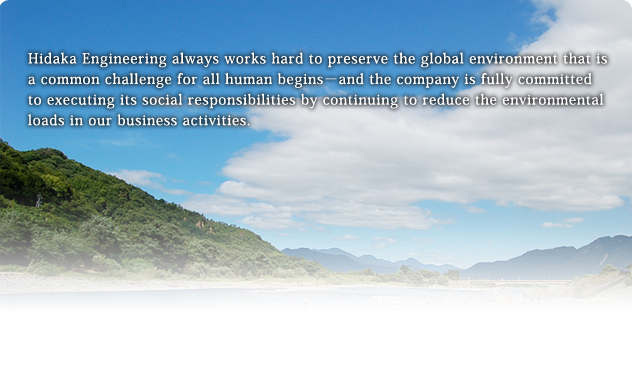 Site
"The Ueda Research Park," where Hidaka is situated, is located at an elevation of 520 meters in the suburbs of Ueda City. The annual precipitation is modest and the climate is suited to the machining of precision components.

The Ueda Research Park is one of Nagano Prefecture's R&D hubs and comprises 13 institutions, including public technical training facilities, R&D intensive companies, universities, and hospitals. The Research Park was established with the purpose of upgrading local industries and incubating innovative companies.

The site is surrounded by a rich natural environment inhabited by rare species such as goshawks and madara-yanma dragonflies. To protect this natural environment, the organizations in the Research Park uphold and practice the "Guidelines for Creating a Beautiful Landscape and Environment," which governs that the business activities and the natural environment should be harmonized, and Hidaka also plays its part.

This area is also home to many historic landmarks including the Ikushima-tarushima-jinja shrine, Anrakuji temple (a national treasure), the Chuzenji and Zensanji temples, as well as historic sites and cultural properties such as ancient burial mounds, and is often called "the Kamakura of Shinshu," in reference to an old capital of Japan where there are also many old temples.
Environmental Preservation
Hidaka sees environmental preservation as one of the company's most important challenges. We are devoted as a company to recycling raw materials and developing products designed to reduce the environmental load. Also, as part of our efforts to reduce the environmental load caused by our production activities, we have installed a solar power generation system that outputs 80 kW of power to utilize natural energy effectively.

We have acquired ISO 14001 certification for our environmental preservation activities, which are maintained and managed under the ISO 14001-certified international environmental management system.

To protect the environment of this area so rich in nature, Hidaka is committed to preserving the environment and developing technologies to facilitate environmental preservation.
Our Environmental Guidelines
We are always aware of the impact that our activities, products, and services have on the environment, and we continue to prevent environmental contamination and improve our environmental management systems.
We respect environment-related laws ,regulations and other requirements that we recognize, which our activities, products and services may concern.
We aim to reduce the environmental load right from the earliest stages of planning and design so we can supply products and services with less load, and we work at promoting the following "4-R Activities":
Reduction of CO2 emissions through energy-savings
Reuse of waste
Reduction of waste
Recycling of waste
We view our environmental management activities as one of our most important tasks. We ensure all employees know these guidelines, and we disclose these guidelines to interested parties outside the company as well.